"Met de juiste buren creëer je one-stop-shopping voor de vakman." Würth Nederland opende eind 2022 in Amsterdam-West haar derde vestiging in de hoofdstad. Daarmee stond de teller voor de Nederlandse dochter van de groothandel in montage- en bevestigingsmaterialen op 40 vestigingen. Stond, want sinds 1 januari zijn in Arnhem en Doetinchem inmiddels de volgende twee shops aan het netwerk toegevoegd. Het tekent de expansieambitie van Würth Nederland.
"Die groei past binnen onze doelstelling om met eigen shops een landelijke dekking te krijgen, en daarmee dichter bij de klant te staan. Daarvoor zijn we actief op zoek naar nieuwe locaties. Het liefst panden met een oppervlakte van 400 tot 500 vierkante meter en een minimale hoogte van 4 tot 6 meter. Bij voorkeur op bedrijventerreinen gelegen aan de doorvoerwegen zodat onze klanten snel en efficiënt hun aankopen kunnen doen", zegt Jurgen de Lange, Formulemanager Shops Würth Nederland. Mede daarom vestigt Würth de nieuwe shops ook graag in de buurt van andere groothandels. "Dan kun je als goede en complementaire buren uitgroeien tot een handige one-stop-shopping omgeving voor onze gezamenlijke doelgroep. Daarmee helpen we de professionele klanten en uiteindelijk ook onszelf."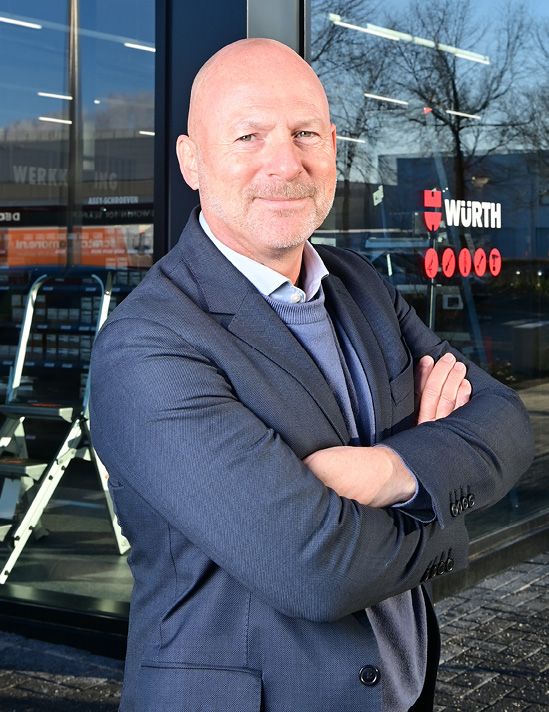 Bestaand aanbod in nieuw concept
De afgelopen jaren heeft Würth Nederland gewerkt aan een herpositionering van hun shops. "We hebben daarbij vooral onze formule aangescherpt door eerst nadrukkelijk te kijken wie onze klanten zijn en aan deze klanten ook veel vragen gesteld. Alle onderdelen van de marketingmix zijn doorlopen. Deze bevindingen hebben we in de shops vertaald naar een nieuwe look and feel met meer accent op beleving en informatievoorziening. Tevens is een heldere assortimentskeuze gemaakt met het accent op bevestigingsmaterialen, gereedschappen, werkkleding, persoonlijke beschermingsmiddelen, lijmen en kitten, onderhoudsproducten, klimmaterialen en opbergsystemen. Uiteindelijk ligt er een assortiment van ruim 5.000 artikelen op grijpvoorraad in de shop, dat lokaal aangevuld kan worden. Voor de overige 120.000 Würth-artikelen hebben wij onze e-commerce bestelmogelijkheden in de shop geïntegreerd."
De herkenbare Würth-shopformule biedt bovendien een extra kans om te groeien, zo meent De Lange. "We kunnen ons shopconcept ook prima binnen een bestaande groothandel presenteren. Bijvoorbeeld als een bouwmaterialengroothandel meer wil bieden aan zijn klanten of als de groothandel binnen onze assortimenten ontzorgt wil worden en Würth zijn winkelgedeelte overneemt. Hij biedt zijn klanten dan toegang tot een breder en dieper assortiment, met alle voordelen van dien, voor de klant in het bijzonder."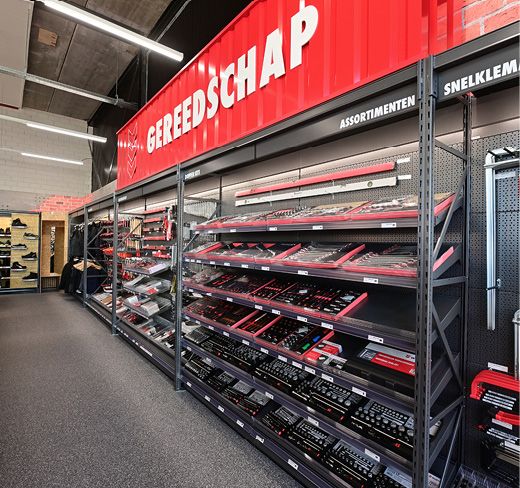 Würth als partner
De Lange benadrukt dat Würth daarbij de groothandel niet de mogelijkheid zal bieden om de producten zelf te verkopen. "Wij verkopen alleen aan professionele eindgebruikers dus ook in zo'n samenwerking blijven wij zelf verantwoordelijk voor de verkoop van onze producten. Maar door op die manier samen te werken als partners, versterkt de groothandel zijn positie richting zijn klanten en kunnen we samen een mooi antwoord bieden op de mega bouwmarkten, die zich ook meer en meer op zzp'ers en andere professionals richten."
Focus op bouw en installatie
Binnen de vernieuwde shopformule van Würth ligt de nadruk op de assortimenten voor bouw-, onderhoud- en installatie-gerelateerde bedrijven. "Veel professionals in die beroepsgroepen doen hun inkopen graag bij de groothandel. Als wereldmarktleider op het gebied van bevestigings- en montagematerialen bedient Würth ook andere sectoren zoals Automotive & Cargo en de maritieme sectoren, maar die vinden hun producten grotendeels via de overige verkoopkanalen als onze e-commerce-oplossingen en via onze buitendienst."
125.000 artikelen
Hoewel de shops zich voornamelijk richten op bouw-, onderhoud- en installatie-gerichte bedrijven zijn via de fysieke vestigingen alle 125.000 artikelen die Würth voert verkrijgbaar. "Met de grote digitale zuil die in de shops aanwezig is, kunnen alle artikelen in ons assortiment besteld worden. Het e-commerce­scherm biedt dezelfde mogelijkheden als de app. Bestellingen die via de app, of in de shop via het scherm worden gedaan, worden vervolgens uitgeleverd vanuit ons distributiecentrum in Den Bosch."
Het illustreert volgens De Lange de multichannel strategie van Würth. "Daarmee willen we onze klanten omarmen. We hebben 260 vertegenwoordigers, die verspreid over het land aan klanten gekoppeld worden. Daarnaast heeft Würth maatwerk gerelateerde e-commerce oplossingen en een landelijk netwerk aan shops. Samen met de vertegenwoordiger bespreekt de klant zijn wensen en mogelijkheden en bepalen zij samen wat voor hem de meest aantrekkelijke manier is om samen te werken. Die serviceverlening is voor ons heel belangrijk."
Diversiteit is de kracht
De Lange ziet het als onderdeel van de service die Würth biedt. "Onze klanten kunnen ook bij ons terecht voor het verkrijgen van informatie over onze artikelen, voor het bestellen, bevoorradingsoplossingen, maar ook voor een keuring van hun gereedschap of valbeveiliging. Dat geldt ook voor gehoorbescherming op maat, een veiligheidsbril op sterkte of het bedrukken van werkkleding. Wij willen klanten het gevoel geven dat we er voor ze zijn en dat we onderdeel zijn van hun project om samen de klus te klaren. Wij beseffen ons dat het ons alleen goed gaat als het de klant goed gaat. Niet alleen met de artikelen en materialen die we leveren, maar juist ook door onze kennis in te zetten en ze te adviseren."
Een werkwijze die leidt tot trouwe klanten. "Je kunt op meerdere plekken schroeven kopen, maar onze klanten kopen die bij ons. Niet alleen vanwege de kwaliteit of prijs, maar ook vanwege het gevoel dat ze bij Würth hebben. En dat gevoel wordt in de nieuwe shops versterkt."
Familiebedrijf sinds 1945
Adolf Würth startte in 1945 een eigen ijzerwarengroothandel en kreeg in 1949 gezelschap van zijn eerste medewerker, zoon Reinhold, die toen 14 jaar was. Reinhold nam, na het overlijden van zijn vader in 1954, op 19-jarige leeftijd de groothandel over en bouwde Würth samen met andere leden van de familie uit tot wereldwijd opererende groothandel. Hij is anno 2023 nog steeds verbonden aan het familiebedrijf als voorzitter van de Raad van Toezicht.
De Würth-Groep is in ruim 80 landen actief met meer dan 400 dochterondernemingen. In Nederland is Würth sinds 1962 actief en heeft het sinds begin dit jaar 42 shops.